Monocultivar Moraiolo
€7,00 – €27,00
Moraiolo is an ancient olive variety which is typical of Umbria, and it produces an extra virgin olive oil of great character. It's strong and powerful, without losing sight of balance.
ON THE SMELL
Intense bouquet of green olives; freshly cut grass and artichoke; balsamic hints ranging from resins to rosemary.
ON THE PALATE
It is enveloping and full of personality, with herbaceous hints of raw artichoke and rocket, and distinct spicy nuances of black pepper. Very marked bitterness and decidedly spicy.
PAIRINGS
An excellent combination with first courses, legume soups, red meats and game, bruschetta, cooked herbs and aged cheeses.
Valori medi per 100 ml di prodotto
ENERGIA Kcal 824 Kj 3446
GRASSI 91,6 g
     Acidi grassi saturi 13,25 g
CARBOIDRATI 0 g
ZUCCHERI 0 g
PROTEINE 0 g
SALE 0 g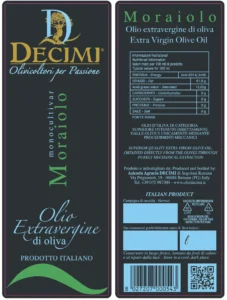 In order not to alter the quality of the product, in order to avoid sudden changes in temperature, we ship in suitable polystyrene packaging.