Biologico
€6,00 – €23,00
This oil is a selection of olives from organic farming of the Moraiolo, Frantoio and Leccino varieties, harvested in the hills. This certification allows you to control the entire supply chain, from the agronomic one – in which organic fertilizers are used – to the entire processing cycle.
SMELL
It ranges from hints of thistle and fresh olives to balsamic hints of cut grass.
ON THE PALATE
Harmonious in the mouth, with a nice bitterness at the entrance and a pleasant delicate spicy finish.
PAIRINGS
Versatile, it lends itself to the combination of numerous meat-based dishes, cooked vegetables and first courses.
Valori medi per 100 ml di prodotto
ENERGIA Kcal 824 Kj 3446
GRASSI 91,6 g
     Acidi grassi saturi 13,25 g
CARBOIDRATI 0 g
ZUCCHERI 0 g
PROTEINE 0 g
SALE 0 g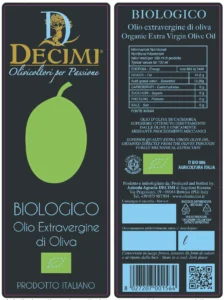 In order not to alter the quality of the product, in order to avoid sudden changes in temperature, we ship in suitable polystyrene packaging.