Emozione
€6,00 – €23,00
This is a blend obtained from Moraiolo, Frantoio, Leccino ad San Felice varieties, trying to balance out the characteristics of each cultivar.
It is named after the feeling we get making this oil, which every year takes on new life according to the organoleptic characteristics that develop in the various cultivars.
The product
ON THE SMELL
Intense and elegant aromas open up with well-defined herbaceous notes, combined with sensations of thistle.
ON THE PALATE
It is very elegant, balanced, with an extraordinary harmony between bitter and spicy.
PAIRINGS
Its balance makes it versatile, able to enhance and embellish many dishes.
Nutritional information
Valori medi per 100 ml di prodotto
ENERGIA Kcal 824 Kj 3446
GRASSI 91,6 g
     Acidi grassi saturi 13,25 g
CARBOIDRATI 0 g
ZUCCHERI 0 g
PROTEINE 0 g
SALE 0 g
Label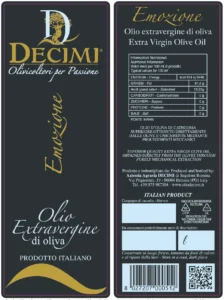 Shipping info
In order not to alter the quality of the product, in order to avoid sudden changes in temperature, we ship in suitable polystyrene packaging.