OUT OF STOCK

SOLD OUT
"L'Olio" Nuovo
€29,00
LIMITED EDITION – From the first olives of the Frantoio and Leccino cultivars harvested earlier than the normal degree of ripeness, a concentrate of flavors to try on our traditional dishes. Limited edition for lovers of good food.
PAIRINGS:
Bruschetta, pinzimonio, legumes, cooked herbs and red meats.
Valori medi per 100 ml di prodotto
ENERGIA Kcal 824 Kj 3446
GRASSI 91,6 g
     Acidi grassi saturi 13,25 g
CARBOIDRATI 0 g
ZUCCHERI 0 g
PROTEINE 0 g
SALE 0 g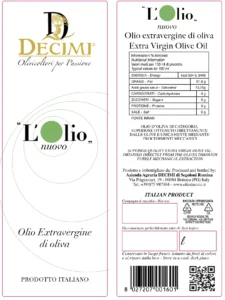 In order not to alter the quality of the product, in order to avoid sudden changes in temperature, we ship in suitable polystyrene packaging.