SOLD OUT
DOP Umbria
This blend is made according to tradition and in compliance with production regulations for the olive groves located in one of the sub-areas most devoted to olive growing, namely the hills of Bettona, Collemancio and Giano dell'Umbria. Our DOP is an expression of the typical character and scents of Umbria. It is made from Moraiolo, Frantoio and Leccino, expertly blended in different percentages every year.
SMELL
It offers intense and precise as well as elegant aromas, the herbaceous notes and green apple stand out.
ON THE PALATE
In the mouth it expresses its balsamic note of fresh vegetables with very persistent bitter and spicy tones.
PAIRINGS
Ideal match for legume soups, grilled red meats, noble fish and bruschetta.
Valori medi per 100 ml di prodotto
ENERGIA Kcal 824 Kj 3446
GRASSI 91,6 g
     Acidi grassi saturi 13,25 g
CARBOIDRATI 0 g
ZUCCHERI 0 g
PROTEINE 0 g
SALE 0 g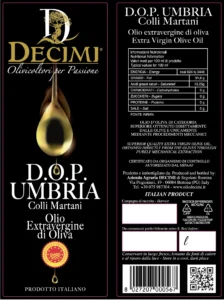 In order not to alter the quality of the product, in order to avoid sudden changes in temperature, we ship in suitable polystyrene packaging.