Monocultivar San Felice
€30,00
San Felice is an ancient native variety, one of those expressions of biodiversity that characterize the Italian and Umbrian olive heritage. An oil to savour.
ON THE SMELL
Sensations of herbaceous and floral with notes of apple and almond.
ON THE PALATE
Initially bitter sweet and pungent almond not too pronounced.
PAIRINGS
It is ideal for white meats, fish and fresh cheeses.
Informazioni Nutrizionali
Valori medi per 100 ml di prodotto
ENERGIA Kcal 824 Kj 3446
GRASSI 91,6 g
      Acidi grassi saturi 13,25 g
CARBOIDRATI 0 g
ZUCCHERI 0 g
PROTEINE 0 g
SALE 0 g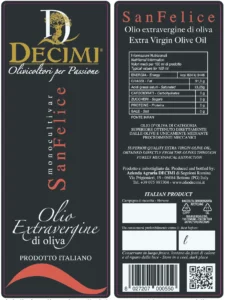 In order not to alter the quality of the product, in order to avoid sudden changes in temperature, we ship in suitable polystyrene packaging.